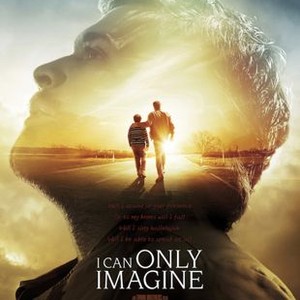 In an age where media is the dominant way to deliver propaganda, it is important that Christians do a good job of making their own media. I am glad to say that 'I Can Only Imagine' is possibly the best Christian film ever shown in theaters. The acting was on point, and the heaviness of the story was balanced out with a variety of humorous moments.
In my opinion, Christian movies do the best when they tell true stories. What would be a better advocate for God than the demonstration of his power? There are so many things that happen every day that are a demonstration of God's power and glory that such stories are never in short supply. This is certainly the direction that Christian media should go. Thankfully, I think that Christians already realize this.
Bart Millard's story is one of many stories that puts God's sovereignty, mercy, and power into perspective. If one were an unbeliever that were looking at Bart's story from the outside, one would think that there would be no hope for him. His life had a variety of setbacks; chief among them was an abusive father. By the time Bart met his redeemed father, Bart had already concluded that his father was beyond redemption. Fortunately, Bart eventually realizes that his father is a changed man. Unfortunately, Bart's reluctance to forgive his father despite his father sending letters to him turned out to be costly, for Bart did not realize that his father had changed until his father was reaching the end of his life.
There are two things that I think should be taken from Bart's story. First, no one is beyond redemption. Second, God can take the most dire of circumstances and turn them around. The beginning of Bart's life may look hopeless to many people, but throughout all of the trials that Bart had, God was shaping Bart so that he would be prepared to deliver a song that would bring millions of people comfort. Without the hardships that Bart experienced prior to writing that song and witnessing the redemption of his own father, 'I Can Only Imagine' would never be written. On top of that, Bart's father found Messiah Yeshua by listening to Bart singing (and the sermons from his church) on the radio. When we go through trials, God is shaping us for his own purpose. Bart's story is a manifestation of that Biblical concept.
'I Can Only Imagine' has a great story, a great cast, and it is God glorifying.
———————————————————————————————-